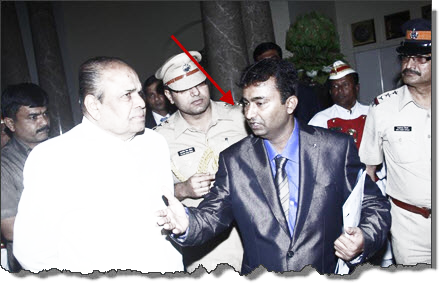 Satya has the rare distinction of making things at ease. A multi - Faceted Personality, Satya's never say no attitude sometimes brings discomfort both within & outside as he embarks to confront all odds with a smile & comes out with flying colors. There has been many occasions, in a career spanning more than a decade, Satya has exhibited that even when you have tasks next to impossible with many uphill tasks & plethora of challenges, he finds a way out!
Leadership. It comes in many shapes and size. Many people think leadership means leading a group of people, making decisions for them, and being the most outspoken. This is the myth that tears down so many people and makes them unable to reach their leadership potential. One army, as a whole, displays a vast array of leadership qualities. Two of the biggest qualities shared by each member are that we are servant leaders and go-getters. Without this we would not have been able to become the organization we are today.
Having a great idea, and assembling a team to bring that concept to life is the first step in creating a successful business venture. While finding a new and unique idea is rare enough; the ability to successfully execute this idea is what separates the dreamers from the entrepreneurs. However you see yourself, whatever your age may be, as soon as you make that exciting first hire, you have taken the first steps in becoming a powerful leader. When money is tight, stress levels are high, and the visions of instant success don't happen like you thought, it's easy to let those emotions get to you, and thereby your team. Take a breath, calm yourself down, and remind yourself of the leader you are and would like to become. Here are some key qualities that every good leader should possess, and learn to emphasize.
Whatever ethical plane you hold yourself to, when you are responsible for a team of people, its important to raise the bar even higher. Your business and its employees are a reflection of yourself, and if you make honest and ethical behavior a key value, your team will follow suit.
Finessing your brand vision is essential to creating an organized and efficient business, but if you don't learn to trust your team with that vision, you might never progress to the next stage. Its important to remember that trusting your team with your idea is a sign of strength, not weakness. Delegating tasks to the appropriate departments is one of the most important skills you can develop as your business grows. The emails and tasks will begin to pile up, and the more you stretch yourself thin, the lower the quality of your work will become, and the less you will produce.

The key to delegation is identifying the strengths of your team, and capitalizing on them. Find out what each team member enjoys doing most. Chances are if they find that task more enjoyable, they will likely put more thought and effort behind it. This will not only prove to your team that you trust and believe in them, but will also free up your time to focus on the higher level tasks, that should not be delegated. It's a fine balance, but one that will have a huge impact on the productivity of your business. follow suit.
Knowing what you want accomplished may seem clear in your head, but if you try to explain it to someone else and are met with a blank expression, you know there is a problem. If this has been your experience, then you may want to focus on honing your communication skills. Being able to clearly and succinctly describe what you want done is extremely important. If you can't relate your vision to your team, you won't all be working towards the same goal.

Training new members and creating a productive work environment all depend on healthy lines of communication. Whether that stems from an open door policy to your office, or making it a point to talk to your staff on a daily basis, making yourself available to discuss interoffice issues is vital. Your team will learn to trust and depend on you, and will be less hesitant to work harder.
There may be days where the future of your brand is worrisome and things aren't going according to plan. This is true with any business, large or small, and the most important thing is not to panic. Part of your job as a leader is to put out fires and maintain the team morale. Keep up your confidence level, and assure everyone that setbacks are natural and the important thing is to focus on the larger goal. As the leader, by staying calm and confident, you will help keep the team feeling the same. Remember, your team will take cues from you, so if you exude a level of calm damage control, your team will pick up on that feeling. The key objective is to keep everyone working and moving ahead.
If you expect your team to work hard and produce quality content, you're going to need to lead by example. There is no greater motivation than seeing the boss down in the trenches working alongside everyone else, showing that hard work is being done on every level. By proving your commitment to the brand and your role, you will not only earn the respect of your team, but will also instill that same hardworking energy among your staff. It's important to show your commitment not only to the work at hand, but also to your promises. Once you have gained the respect of your team, they are more likely to deliver the peak amount of quality work possible.